The Cast
MISA SHIMIZU as Keiko Hanada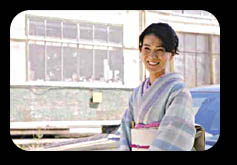 "Keiko is a Japanese who has a very Classical attitude, a lot of emotions kept inside. She is a lot like me. I believe I have quite a variety of personal characters. I don't have certain rules in myself that I have to act or behave certain ways. I am the type who can play quite a variety of characters once my mind is set."
Misa Shimizu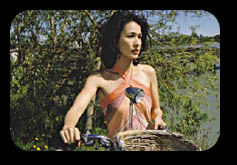 Born in Tokyo, September 1970, Misa Shimizu shot to worldwide fame as the heroine in the 1997 Cannes Palm d'Or winning film The Eel. The same year Misa was awarded the prestigious Fumiko Yamaji Prize and the following year she won the Japan Academy's Leading Actress award, again for The Eel. In the interim, Misa has gone on to become one of Japan's most sought after actresses.
After making her film debut in 1987, Misa won the Rookie Prize (Shinjin-sho) at the Japan Academy Awards in 1991. The following year Misa stunned the Japanese movie world when she scooped 7 prizes for her acting. Winner of numerous awards for her appearances on TV, Misa is truly a national favourite.
In 2001, Misa Shimizu starred in the critically acclaimed Warm Water Under a Red Bridge (Official Selection, Cannes Film Festival 2001, in competition).
Misa is currently living in Maryland with her American husband and two young children.
BRENDAN FLETCHER as Hart Turner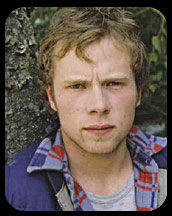 "Paper Moon was a very good opportunity for me, a chance to veer a way from the dark side and explore a softer side, be the innocent one. And it was a pleasure to act with an acclaimed Japanese film actor, Misa Shimizu, in her first English speaking movie and to film in some of the most beautiful locations on the coast of B.C. I'm very excited for "Paper Moon Affair" to have it's world premiere in Montreal."
Brendan Fletcher
Brendan Fletcher plays Hart Turner, a young man torn between the burden of caring for an alcoholic father and the driving desire to move his life forward.
One of Canada's hottest rising stars; Brendan Fletcher burst into the scene in 1996 at the young age of 13 and hasn't looked back since. His acting debut was the lead in the CBC movie-of-the-week Little Criminals, a performance that earned him a Leo Award as well as a Gemini Award Nomination for best lead actor in a dramatic role.
Since 1996, Brendan Fletcher has been the lead in several award winning films, including Jimmy Zip, Rollercoaster, and The Five Senses. In 2002, Brendan was awarded a Genie for "Best Actor in a Leading Role" for his work in the feature film The Law of Enclosures and this past year, Brendan was nominated for a Gemini Award for the Movie-of-the-week, 100 Days in the Jungle. His role in Everyone was the winner of a Golden Zenith for Best Canadian Film at the 2004 Montreal World Film Festival.
Upcoming feature films include the highly-anticipated Terry Gilliam flick, Tideland, the Canadian indie, Eighteen, and the comedy, The Onion Movie, based on material from the satirical website. Brendan was most recently seen on television as a guest star on USACable's Touching Evil, Fox's Tru Calling, UPN's Jake 2.0 and CHUM's The Collector.
Brendan was born and raised in the Comox Valley on Vancouver Island in British Columbia. He now currently makes his home in the heart of Hollywood North; Vancouver, Canada.
SEBASTIAN SPENCE as Vern Staub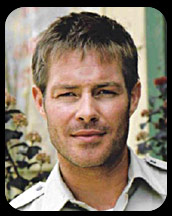 "Tamagi is a director with a vision, encouraging collaboration and input creatively from his cast, it was a very organic process. "Paper Moon" is a film with heart, I enjoyed it immensely and enjoyed working with the truly gifted cast."
Sebastian Spence
Sebastian Spence plays Vern Staub, a man who finds himself bound to an unloving wife and the pressures of a young family. When Keiko appears in his life, he feels an overwhelming need to escape.
Sebastian Spence has come a long way from his theatrical roots in St. John's Newfoundland. Whether playing a stoic, aggressive, yet compassionate alien hunter in The Lone Ranger's brother, or most currently, Matt Freeman, a socially gregarious, gay college professor in WB's hit series Dawson's Creek - Sebastian's talent and far reaching range continues to shine. Recent television highlights include guest starring roles in James Cameron's hit Dark Angel and VHI's anthology series Strange Frequency. Spence was the solo lead in Francis Ford Coppola's hit series First Wave for its three year run. Spence won the lead role in First Wave while still a regular in the popular Showtime action series Fast Track, playing Stevie Servine, a cocky young racecar driver. Prior to that, Spence had guest appearances in such notable television series as The X-Files and Outer Limits, and a starring role along side Charles Bronson in CBX's movies Family of Cops 1, 2 and 3.
In his first film, the award-winning Boys of St. Vincent, Spence won high praise for his outstanding portrayal of Kevin Reevey, a tortured young man trying to live a normal life, yet forced to confront his past of childhood sexual abuse in an orphanage at the hands of the very priests entrusted with his care. Upon the heels of this praise winning performance, Spence co-stars in Misa Shum's dark comedy Drive, She Said in which Spence plays Jonathan, an uptight, commitment -phobic young man.
This was certainly a far cry from the elite smoke-jumping firefighter Spence plays in 20th Century Fox's Firestorm. Never one to be typecast, Spence revels in the vast range of characters he has been called on to play. His numerous stage credits include such notable plays as King Lear, Crime and Punishment, Wolf In the Fold and The Great Fire Show. It is no coincidence that Spence shoes acting as his profession. His father, the late Michael Cook, was a renowned playwright and his mother, Janis Spence, is also a successful playwright and actor. So in truth Sebastian Spence is simply keeping up the family tradition.
JOHN LONE as Husband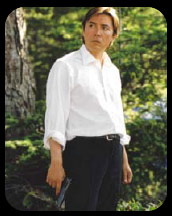 In Paper Moon Affair, John Lone plays Keiko's dominating husband: alternately charming, mysterious and cold.
At a time when cultural barriers around the world are breaking down at an ever increasing pace, John Lone stands out as an actor ready for this new age. Transcending stereotypes, his portrayals have gained their strength and appeal through a deep sense of touching both the universal and the personal. His unique combination of gifts contributes to an undeniable screen presence.
John Lone's three most recent films testify to the scope and diversity of his talent. In David Cronenberg's film adaptation of the Broadway hit M Butterfly, Lone starred in the title role as the captivating muse who seduces and coerces a French diplomat into duplicity. In the 1994 release, The Shadow, Lone portrayed Alec Baldwin's nemesis, Shiwan Khan, the last warrior descendent of Genghis Khan, who would stop at nothing to gain world domination, much as the Shadow would do everything in his power to prevent him. In Jonathan Lawton's 1995 release of The Hunted, Lone starred as a ninja in a haunting story of revenge and pursuit set in contemporary Japan.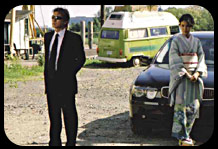 Lone catapulted to international attention with the title role in Bernardo Bertolucci's Oscar-winning The Last Emperor. With a series of starring roles in feature films and two Golden Globe nominations, Lone's artistry as a actor has been highly regarded by critics and audiences alike.
Lone made his theatrical film debut portraying a prehistoric man brought back to life in Fred Schepisi's Iceman. He next played a suave and dangerous Chinese underworld kingpin in Michael Cimino's crime drama The Year of the Dragon. His subsequent roles include that of an enigmatic businessman/art collector living among expatriates in 1920's Paris in Alan Rudolph's The Moderns, and a Balinese dancer involved in an interracial love affair (with Wendy Hughes) in Philip Noyce's Echoes of Paradise. Lone was also responsible in helping to assemble an international creative team for the independent feature films, Shadow of China and Shanghai 1920. He was exhilarated by the experience these two opportunities provided in bridging differences in the cultural and artistic worlds his own life and career has spanned.
Lone was born in Hong Kong and became orphaned early on. In the absence of traditional educational opportunities and through his own young instincts, he was sent, at an early age, to live with a monastic- like company of the Beijing Opera. There he trained in the highly disciplined and rigorous formal arts of classical Chinese theater. Eventually, feeling confined by the regimentation of the Beijing Opera, coupled with his own growing curiosity of the world outside, he sought other opportunities. A gifted performer of grace and ability, Lone passed up the offer of a ten-year contract to be groomed as a star for the Hong Kong cinema establishment and instead chose to pursue his own brand of artistic expression. This determination and a growing interest in Western culture led him to the United States.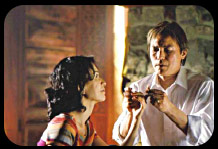 Lone's initial American success was in David Henry Hwang's play FOB at Joseph Papp's Public Theatre in New York. His performance earned him an Obie Award and the serious attention of the New York theater world. Hwang wrote his next play, The Dance and the Railroad, specifically for Lone. In this critically heralded production, Lone not only played the lead but also served as director, choreographer and composer. After a successful theatrical run, his production was showcased on television as part of the New York Shakespeare Festival/ABC Arts Productions. Lone made his directorial debut with the PBS/American Playhouse production of Paper Angels, based on a play that he had directed for the New York stage.
Choosing his roles with conviction, Lone is pleased with the thought that audiences seem to "rediscover" him with each project. From childhood onward, life and art have joined together uniquely for this charismatic actor. As he recently said, "Ideally acting, even directing, is about revelation and sharing. I've been very lucky to have the opportunity, the good fortune to have a life and career which lets me experience that so often."
PHIL GRANGER as Bill
"David was a wonderful director to work with, we spoke the same language."
Phil Granger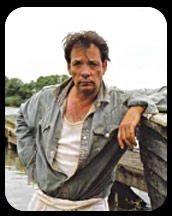 Phil Granger moved to Los Angeles at the age of 19 to follow his dream of acting and has never looked back. While in LA, Phil co-founded the critically acclaimed Naked Stage Theatre Company where he was the artistic director from 1985-1991. While working in Theatre in LA, Phil won a variety of awards including the prestigious Los Angeles Theatre Alliance Award and was named Best New Director. In addition he received two Hollywood Dramalogue Awards for outstanding achievement in Theatre, one for Best Director and the other for Best Actor.
Since moving to Vancouver in the early 90's, Phil has been in over 40 Feature Films, has been a regular or recurring in four Television Series and had 22 Guest Star roles including Neon Rider for which he won the coveted Gemini Award for Best Guest Performance. The past year has been one of Phil's busiest with 4 feature leads under his belt working opposite the likes of Christian Slater and Selma Blair.
---
The Film Makers
David Tamagi,
Director & Screenwriter
Born in Yokohama in 1969, he spent the first four years of his life in an American Catholic Mission in Kanegawa Prefecture and was given the name Shigeo Aoki. Adopted by a second generation Japanese Canadian family, he was given the name Shigeo (David) Tamagi and arrived in Canada in 1973 and grew up in Kelowna, BC on an apple orchard.
David studied art at Okanagan College, then moved on to Banff Centre but had always had a passion for motion picture and still photography since high school. While producing low budget independent music videos in Vancouver, David was hired as a photographer for BC Parks. In 1992, David was offered a job in Hong Kong directing music videos for Sony Music, BMG Music and Polygram Music for many prominent pop stars. He became a freelance producer/director and lived in Hong Kong for two years directing television commercials for agencies such as Saatchi & Saatchi and Grey Advertising. Upon returning to Vancouver, many of David's old clients retained his services and today he produces and directs commercials in Vancouver, Hong Kong and Los Angeles.
David began writing screenplays in 1990, something he has enjoyed since he was eleven years old when Readers Digest published a seventy-page short story of his. The story was about two cyborg robots that became friends while on the run from humans who had decided that robots had become too intelligent and dangerous. David had never heard of Bladerunner until four years after it was released. David finances and produces his own short films on what he calls 'learning experiments'. Twice a year he invites ten to twenty actors, writers and camera people to participate in a workshop he calls First Act during which all are invited to a ranch in Merrit for a long weekend to make a short film.
Much of David's visual style is influenced by his love of nature and water. He says "much of his work is dictated by how the sky and clouds reflects light onto his subjects, which he says is important because it is this light upon which all of humanity relies on in order to live and breathe". "It is this same light," he says, "Which also dictates mood and feelings depending on the time of day." When one looks at his commercial and music video work, one sees clouds and water and reflected light in almost every shot.
Thomas Fung,
Executive Producer
Originally from Hong Kong, Mr. Thomas Fung studied film production in New York University. He is trained in theatrical film production and professional photography and has produced a number of Chinese language feature films in Hong Kong. In 1978, he financed the Hollywood feature The Wild Geese, starring Richard Burton & Roger Moore with tremendous success, then went on to make a sequel. In 1984, he founded the Fairchild Group whose portfolio includes property development, television and radio broadcasting, publishing, retail, and web design. His vast accomplishments have achieved international media attention and Time Magazine has named him one of the most influential people in Canada.
Michael Parker,
Producer & Screenwriter
Michael Parker is an award-winning Vancouver-based writer/director/producer. He has been involved in the production of feature films and documentaries for the past 15 years. Michael's films have been celebrated in festivals and commercially released around the world.
Michael's service production company, Maple Ridge Films has line-produced several Asian feature films and television series including the Jackie Chan blockbuster Rumble in the Bronx and Andy Lau's Saviour of the Soul II. President of the independent production company, Holiday Pictures, Michael is writer and associate producer for the first-ever Canada - Hong Kong co-production, Young Offenders. Building on their strong connections with Asia, Michael then wrote, produced and directed Lunch with Charles. The Genie Award nominated film won 3 Leo Awards (Best Director, Best Screenwriter, Best Music) out of 7 nominations and was voted by Shanghai Daily as one of the 10 "must-see" films at the Shanghai International Film Festival.
Michael is the executive producer of the Gemini-Award winning documentary,
"Made in China - the story of adopted Chinese girls in Canada."
Nationally broadcast in Canada by CTV and Vision TV, the film was the recipient of The Canada Award; was selected as Best Feature Documentary in the San Diego Asian Film Festival; and was nominated for a Golden Sheaf Award. Michael is the producer and writer of
Call it Karma
, filmmaker Geoff Browne's compelling documentary about a Tibetan monk. Best Adventure Film winner at the Whistler Film Festival and Leo Award nominee,
Call it Karma
recounts a remarkable pilgrimage from a remote village in Tibet, across the Himalayas, through Nepal and India to a world apart in Vancouver. In addition, Michael has recently written and directed
Hong Kong Express
. Nominated for a Best Program Leo Award, the one-hour documentary is a playful look at the phenomenon of Canadian-born ethnically Chinese women winning international Chinese beauty pageants and their subsequent meteoric rise to fame in the Asian entertainment world. Michael was a co-recipient of the inaugural Channel M Award for cultural diversification at the 2005 Leo Awards for Holiday Pictures's forthcoming project,
Our Family Pictures
.
In addition to several projects with Fairchild Films, Michael is currently developing the feature, What Price Peace - the true story of his Uncle's campaign to bring peace to Northern Ireland following the killing of his 14 year old son on Belfast's infamous 1972 Bloody Friday.
Jilena Cori,
Screenwriter
After graduating from university with a Political Science degree, she went to the University of Florence in Italy with a scholarship. Upon returning to Canada, she attended BCIT and further acquired a degree in Journalism and Broadcasting. She has since become a freelance journalist specializing in technical writing. She subsequently has developed a passion for both acting and writing. She has written three features films namely Anna Stasia - a character driven dramatic thriller, Round Two - a romantic comedy and My Memorable Affair. She has also written and directed three short features, Pets'Rus which has been nominated in the Best Short Film category in the VFS Film Festival as well as Reggie's On Top, winner of 48 Hour Film Festival in Vancouver. She has also written a variety of TV pilots within the last three years.
Luc St. Pierre,
Music Composer
Born in Ottawa, Canada in 1965, Luc St. Pierre began composing music at the age of 6. For many years he studied piano while performing in a variety of musical ensembles before entering the Universite de Montreal to pursue his interests in orchestral and electro acoustic composition with Allan Belkin and Marcelles Deschesnes.
He subsequently worked in both the U.K. and Belgium collaborating with several world-renowned producers to develop his eclectic and highly original style. Today, St. Pierre's work continues to draw on a very broad range of musical influences, allowing him to create masterful compositions in genres as diverse as 'trip-hop' and electronic soundscape, to sophisticated classical orchestral scores of great sophistication and beauty. He has recently composed the music for Malcolm Clarke's Academy Nominated documentary feature, Prisoner of Paradise along with Geoff Browne's
Call it Karma
.
Mary-Ann Liu,
Production Designer
Born in Hong Kong, Mary-Ann Liu is a sculptor, graphic designer and production designer now living in Vancouver, B.C. After graduating with top honours at Emily Carr Institute of Art and Design, Mary-Ann began to work in the local film industry as a graphic designer, art director and production designer. Ms. Liu has worked as a graphic designer on the television series, James Cameron's Dark Angel, John Woo's Lost in Space and John Doe. Her feature film credits as production designer/art director include Stanley Tong's Rumble in the Bronx, Enemy Amongst Us, New York Tempest, and most recently Julia Kwan's Eve & The Fire Horse. Ms. Liu is also an award-winning sculptor and created the dragon sculptures in Vancouver's Chinatown as well as the monument, Tomb of the Unknown Soldier, which is prominently displayed in the nation's capital.
Ileana Peitrobruno,
Editor
Ileana Pietrobruno is an editor who has worked on several Vancouver productions, most recently for directors such as Ann Marie Fleming (The Magical Life of Long Tack Sam), Evan Adams (Kla Ah Men) and Desiree Lim (Floored By Love). Ileana is also a director/writer who has made numerous short films and two feature films - the darkly surreal Cat Swallows Parakeet and Speaks! and the raucous gender-bending Girl King, which is quickly gaining an underground cult following. Her films have won numerous awards and has screened at over a hundred film festivals; including the Toronto International Film Festival, Frameline International Film Festival, and the Berlin International Film Festival.
Garry M.B. Smith,
Editor
Garry Smith has over 15 years experience in editing feature films and documentaries. He has worked on a diverse portfolio including the horror film Snakehead Terror, the dramatic thriller Water's Edge, the Leo-Nominated film Pressure and the black comedy Seven Stories. Garry has extensive knowledge of editing, postproduction and has coordinated post production between Canada and the Czech Republic. Garry has travelled extensively in Africa, Asia and Latin America.
Robert New,
Director of Photography
Robert New has been the director of photography on 12 feature films and numerous television films and series featuring several stars including
Jamie Lee Curtis
and
Leslie Neilson
Prom Night
;
David Arquette, Erika Christensen, Barbara Hershey, Cliff Robertson
in
Stephen King's
Riding the Bullet
,
Parker Posey, Christopher Lloyd, Gill Bellows
in
Dinner at Fred's
,
Jean-Claude Van Damme
in
Lionheart
; Rae Dawn Chong
The Borrower
;
Martin Sheen, Robert Loggia, Jimmy Smits
The Believers
and much more. He has worked in both the US and Canada.
David Tamagi,
Filmography
"COFFEE"
(Independent Short)
Exec. Prod: James Wood, Dinean Stayk
A charming look at a young, free-spirited woman's obsession with a recently heartbroken policeman for whom she makes coffee.
"BONDS OF BLOOD"
(TV Drama Pilot)
Exec. Prod: Danny Hui, Martin Burien
Two brothers immigrate to North America in the 1930's and lead two very different lives; one becomes a model citizen and the other leads a life of crime and greed.
"LES FEMMES DU METROS"
(Short Film)
Exec. Prod: Christian LeLievre
A series of short films of "Women on the Subway" in different cities around the world.
"PASSAGE TO AMERICA"
(Documentary)
Exec. Prod: Danny Hui
Semi-autobiographical story of three boys growing up in a Chinese Opera School during the Great Revolution in the 1950's.
"INNER VISIONS"
(Documentary)
Independent
A man has turned away from 17 years of life on the streets. Following his drug rehabilitation, he visits his former hangouts.
---
Production Note:
A small fishing village on a remote corner of the Pacific Northwest is stunned by the arrival of Keiko, a mysterious and radiantly beautiful Japanese woman, accompanied by her cold but wealthy Chinese husband. Abruptly abandoned in an isolated beach house, the fragile and seemingly inept young woman proves to be a disrupting and exciting influence. She forms an intense bond with the local authority, Vern, who is trapped in an unhappy marriage; then starts a platonic friendship with 19-year old Hart. Innocent and earnest by nature, Hart chafes at the burden of care taking an alcoholic father and the pettiness of small town gossip. His dreams of life beyond his depressed island community intensify in the company of the exotic, artistic and overwhelmingly attractive older woman. When Keiko decides to leave, their relationship turns torrid.
Fairchild Films International is proud to present PAPER MOON AFFAIR. Based on a story by Executive Producer Thomas Fung, Paper Moon Affair tells of an abandoned Japanese beauty that fascinates the inhabitants of a remote West Coast village, and in turn is fascinated by two very different local men. Produced by Michael Parker, Paper Moon Affair is David Tamagi feature directorial debut.
Multiple award winner Misa Shimizu (The Eel, Cannes Palme d'Or 1997, Warm Water Under a Red Bridge, Cannes 2001) stars as "Keiko" an enigmatic Japanese beauty forced to find herself while lost in a remote Pacific northwest corner of North America. John Lone (Bertolucci's The Last Emperor) makes a special appearance as her husband and recent multi Jessie Award nominee Brendan Fletcher (Terry Gilliam's Tideland) stars as "Hart" a young man who discovers his inner strength and sexuality through his encounter with the Japanese woman. Sebastian Spence (Crossing, Dawson's Creek) is "Vern" an unhappy romantic who must decide just how much he is willing to lose for the possibility of love.
Rounding out the cast is Philip Granger (Flower & Garnet, Lunch With Charles) as "Bill" Hart's father, whose slide from affluent fish boat owner to the local town drunk, famous for his violent binges, has seriously jeopardized his relationship with his son, and Brenda James (The Practice, Red River) is "Lucinda", Bill's daughter and Vern's neglectful wife.
PAPER MOON AFFAIR is directed by commercial/music video producer/director David Tamagi and marks this young Canadian's debut feature film. Producer Michael Parker (Lunch with Charles) is a pioneer of Asian/Canadian co-productions who has won awards as a writer, director and producer. The executive producer is Thomas Fung, named by Time Magazine as one of the most influential people in Canada. Founder of the Fairchild Group (property development, television and radio broadcasting, publishing, retail, and web design) Fung has also financed several International films including the Hollywood feature, Wild Geese, starring Richard Burton and Roger Moore. He recently launched Fairchild Films International.
One of Thomas Fung's inspirations for the film came from a Chinese expression, loosely translated as "The moon reflecting on the water is an illusion". This sparked the idea for Keiko, a woman who finds love in an unlikely relationship with the younger Hart.
After meeting several actors from Japan, the team was thrilled to meet Misa Shimizu. Possessing a deep talent and impressive commitment, Misa's only challenge came from having to perform for the first time in English. "She is a remarkably talented performer", says Producer Michael Parker. "Her great concern to understand every nuance of the script meant that she would go to great lengths to fully absorb what was written. On at least one occasion, this meant long distance phone-calls to a translator while filming on a remote beach on the west coast of Vancouver Island." Her dedication to the film was put to the test during one scene that called for her to collapse on the sand wearing a scant nightgown. Ice-cold Pacific Ocean water surged over her for take after take.
Brendan Fletcher was a preferred choice for Hart from early on. During an initial meeting, the filmmakers learnt that Fletcher grew up in a small town on Vancouver Island - Hart was a character that he could very much relate to. "Brendan is a strong, physical actor with a great presence. His ability to possess the angst of a young man torn between family responsibility and the burning desire for something more appears effortless to him." From the emotional confrontation with his father to the sensitive love scene with Keiko, Brendan Fletcher possesses a captivating raw intensity.
Looking for a strong performer to play Misa's husband, the producers were able to get a script to stage and screen star, John Lone. "John's role is small but pivotal. He understood that and was constantly reminding David not to feature him - something that was difficult given his stature. Fortunately, he had no inhibitions whatsoever to appear as a cad who would dump his wife in the middle of nowhere."
PAPER MOON AFFAIR is written by David Tamagi, Michael Parker and Jilana Cori from an original story by Thomas Fung. The director of photography is Robert C. New, (Stephen King's Riding the Bullet) production designer is Mary-Ann Liu (Eve & the Fire Horse) and the Music Composer is Luc St. Pierre (Prisoner of Paradise).
---
Factoids by Michael Paker
Where was Paper Moon shot?
The main house was shot on Bowen Island. The scenes that feature the waves and ocean was shot in Tofino, on the West coast of Vancouver Island. We dressed the town set at Celtic Shipyards, a remote industrial pocket in Vancouver. The countryside and driving shots were in the Mission area.
How many days to shoot?
All that in just 20 days!
How long did it take for Paper Moon to be finally done from story to post?
The idea for the story had been with the executive producer, Thomas Fung since 2000. The first working draft for the script was ready by the fall of 2003 and we went into production in May 2004. The first answer print was ready in March 2005.
Incidents on set?
There were discussions during the scene where Vern (Sebastian Spence) is driving with Hart (Brendan Fletcher) as to how reckless to make it once Hart starts beating Vern. David asked Vern to drive as wildly as he felt comfortable with and to take out one of the mailboxes. This idea was nixed when we realized that if we broke off a truck mirror, we couldn't get it replaced in time for the next take. Sebastian overheard the first part of the conversation, but not the conclusion. Unexpected by the crew, when we rolled camera, he swerved back and forth brilliantly, and ended up crashing into and knocking down the mailbox. Fortunately the people and the truck were fine - only the camera crew were unnerved. The "burning candle" origami scene was hell to film. The tide was coming in, the wind kept blowing out the candles and the salt-water was turning the origami boats into clumps of wet newsprint. Hurray for CGI!
What do you think is the main message Paper Moon is telling?
While not a real message-kind of film, it describes three people who feel trapped by their environment and find a sense of hope through love. Of course love is a complex emotion - it can be real, it can be fantasized, it can be an illusion.
Were there any different endings that you were contemplating?
The film has a bitter-sweet ending, as life often does. There was a beautiful scene shot between Hart (Brendan Fletcher) and his dad (Phil Granger) where they make up. As much as we love the scene, whenever it was cut in it just had a nagging feeling of redundancy. We already know Hart forgives and loves his father and seeing it just seemed to take away from the impact of the current ending.
What was the mood on set? Did everyone work well together?
We had a brilliant crew that were highly dedicated and believed in the film. Given the tight schedule and challenging locations, it was difficult for David to make his days and we had to keep people moving. Fortunately Bob New and his camera crew were able to deliver stunning images.
What did you have the most fun with while producing this movie?
David and I took a small crew to do some 2nd unit pick-up shots. We filmed butterfly wings for the opening credit sequence, lots of waves and the aerial footage. When you have a tight, structured shoot, there is nothing better than the freedom of being able to fly through a series of off-the-cuff pick up shots with a handful of people.
What was your vision for this movie in the beginning?
Thomas Fung's inspiration for the film was a modern version of "Summer of '42". He wanted to tell the story of a young man who encounters and falls for an older woman who comes from such a different class and background that she is seemingly unattainable to him. It was this, combined with the Chinese expression referencing love that says, "The moon reflecting in the water is an illusion." I wrote a treatment for him in 2000 and then went on to make my feature "Lunch with Charles". Thomas called me up in 2003 with a script and director attached and asked me to come on board as a writer/producer. I had the task of merging the drafts by Jilena and David. In the end, I'm happy with how it came together.
What was the hardest thing about producing this film?
When the first cut was made, several scenes were deleted and there was an extensive narration added. This was not the film we shot and we had to do a fairly considerable re-edit. Fortunately, I knew what we had to work with and believed that it could be turned around. We were able to complete a new cut in time for the Cannes selection. The film was short-listed for Critic's week and in the end, made it down to the final dozen. That gave us back our confidence that we were making a beautiful film.
Any quick facts?
The film was shot in High Definition. It features the first English language performance by the Japanese star Misa Shimizu. Both Brendan Fletcher and David Tamagi grew up in small towns. Sebastian Spence (Vern) really is "from the other coast" - he grew up in Newfoundland. Except for one butterfly nick- named "Ed", who escaped into the lofts of the studio where we did the insert shots and hasn't been seen since, all other butterflies were released into the wild to live happily ever after.
---
Director's Note
On Thomas Fung...
I think it's remarkable that one man would invest his own money into a film. This is art, taking risks with so many unknowns - especially a new director- which is rare these days.
On Misa Shimizu...
I hope all actors/actresses I work with are like Misa.
On the Creative Process...
What you see in your mind and what ends up on the screen can be drastically different. What a number of people see in their minds of the same movie and what ends up being produced can be very interesting - much like children. It's a huge responsibility and by the time that child walks out of the home you either have a person that people either like or hate - much like a film. Commitment is an enormous part of the filmmaking process. On what makes a movie work. You need a good story - how you interpret the story can be called the 'emotional impact'. These are key. Everything else is just by accident and can be attributed to 'style'.
On being a first time Director...
I'm hooked. I'd do it again in a heartbeat (a lot of things differently, mind you) but I can't wait to sink my teeth into something substantial with the same good actors and committed crew and producers. For one, I like the food on the movie sets better than on commercials.
---
Credits & Contact
Sales Contact:
Michael Parker, Fairchild Films International
Fairchild Films International Ltd.
Fairchild Films International was formed by Mr. Thomas Fung to produce and distribute a diverse number of quality feature films for the international community.
Mr. Thomas Fung has a passion and vision for film that has continued since his film studies at New York University. Since that time he has written, directed and produced his own work and has executive produced and financed several Hong Kong productions along with the Hollywood feature Wild Geese starring Roger Moore and Richard Burton.
The company's inaugural film is Paper Moon Affair starring Misa Shimizu, John Lone and Brendan Fletcher and is based on an original concept by Thomas Fung.
Paper Moon Film Ltd.
Paper Moon Film Ltd. is incorporated for the sole purpose of producing the feature film Paper Moon Affair. The company is controlled and owned by Mr. Thomas Fung through an ultimate parent company, i.e. Fairchild Media Group and Fairchild Property Group.
As witnessed in his personal resume, Mr. Thomas Fung is trained in theatrical film production and has personally produced a number of Chinese language feature films when he was back in Hong Kong. Mr. Fung is in his 10th year of operating two nationwide Chinese language TV stations under his Fairchild Media Group. The production team has a wealth of experience and know-how in terms of television and film production. These team members will be an asset to his newly setup Canadian film production venture.
Paper Moon Affair Credits
Fairchild Films International Presents
A Paper Moon Film Production

PAPER MOON AFFAIR
Misa Shimizu
Brendan Fletcher
Sebastian Spence
Philip Granger
And Special Appearance by John Lone

Canadian casting by
Candice Elzinga

Music Composer
Luc St. Pierre

Edited by
Garry M.B. Smith & Ileana Pietrobruno

Production Designer
Mary-Ann Liu

Director of Photography
Robert New

Story by
Thomas Fung

Screenplay by
David Tamagi, Michael Parker & Jilena Cori

Executive Producer
Thomas Fung
Producer
Michael Parker
Directed by David Tamagi
---