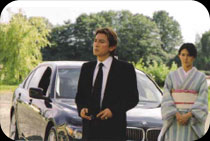 Keiko (Misa Shimizu) is a radiantly beautiful Japanese woman in her 30's, as mysterious as she is lovely. She and her wealthy Chinese husband (John Lone), arrive at a remote corner of the Pacific Northwest close to a small struggling fishing village -- a land unlike anything she has experienced before. Keiko's marriage is troubled, and she distracts herself from her loveless state by folding images of the world she sees around her into delicate origami sculptures.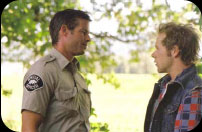 Keiko wakes up one day to find her husband gone?she has been abandoned. Determinednot to be a victim, she takes control of her life. Arriving totown, she meets two men: Vern (Sebastian Spence), the handsome local authority, and Hart (Brendan Fletcher), a rugged youth of about 19.
Hart is the son of Bill (Philip Granger), a local fisherman who is notorious for his drunken binges. Innocent and earnest by nature, Hart has higher aspirations than his sleepy Island community can satisfy. He wants to move to the city to attend school, but there's little money for such an endeavour. Running an errand for the local hardware store leads him to Keiko's remote house where he is offered a glimpse into Keiko's world.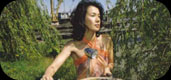 At first sight, Hart is enchanted by Keiko's elegance and exotic beauty and the two engage in an unlikely, platonic relationship. Hetries to find out more about her husband, butKeiko reveals nothing. When alone, Keiko experiences a feeling of entrapment. An encounter with Vern sparks a longing for intimacy that has long been missing from her life. The meeting has a profound effect on Vern, and he begins to question his own stale marriage. As their friendship blossoms, Hart feels hurt and betrayed when he thinks that Vern might be having an affair with Keiko.
Keiko's affect on the two men is haunting, and she is herself forever changed by her stay there. When Keiko decides she must leave, Hart and Keiko's relationship turns torrid.